SH-Soft Solutions - RoboCopy GUI
Features
Graphical User Interface for the most robocopy functions
Simple usage
no Installation required
---
Application Window: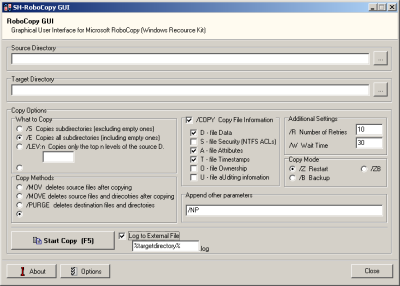 In the application window you can select the source and the target directory. The default copy options will copy the all files, directories and subdirectories of the source directory to the target directory.
By default there will be no log file written. So the rsult of the copy process will only be displayed in the console dialog.
To enable logging check the "Log to External File" checkbox.
If you whish to use some own commands you can use the "Append other parameters" field.<ü>
---
Options Dialog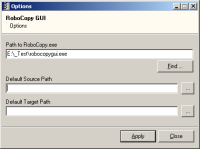 After the first startup you have to define the path to robocopy.exe which is deliverd in the Windows Recource Kit. You can download the Windows Server 2003 Recource kit directly from the Microsoft website:
>>Download Recource Kit
You can also configure the default source and the default target path.
---
Robocopy Console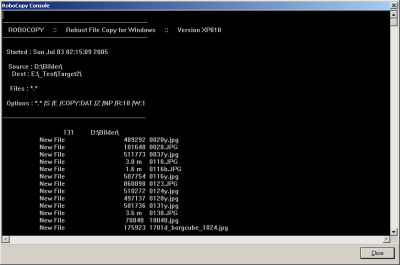 If there is no external log file defined you can see the output of robocopy in this screen when the operation is finished
---
Download RoboCopy GUI