SH-Soft Solutions - SH Browser
About
The SH-Soft Browser is a single Window instance for the Internet Explorer. It is very useful if you need to work on a single website but you dont need all the tool and status bars of the full Internet Explorer.
---
Features
stay on top function
fixed wndow size / position
minimize to tray function
user defined application title
no status... bars
---
Configuration
The complete configuration can be done in a single ini file.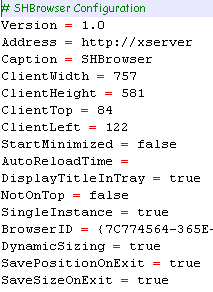 Address:

The start page of the browser

Caption
ClientWidth and ClientHeight

They define the window size

ClientTop and ClientLeft

The position of the window
when there is no valid value the window will start in the screen center

StartMinimized

will hide the window to the systray after startup

AutoReloadTime

Is the time for an automatic update interval
The interval for one second is 1000
To Update a page every Minute you need an interval of 60000

ApplicationIcon

User defined icon
you have to use .ico files
the icons should have a resolution of 16x16 px

DisplayTitleInTray

You can display the Page title as Systray hint.
It will also appear in the browser title.

NotOnTop

If this value is "

true

" the application window will not stay on top

SingleInstance

If this value is "true" there can only be once instance of the browser

BrowserID

This identifies an instance of the browser.
Use different BrowserID's if you use multible instances of the SHBrwoser with different configuration files.

DynamicSizing

Enables dynamic sizing of the browser window

SavePositionOnExit

Save the position an exit

SaveSizeOnExit

Saves the windo size on exit
---
Download SH Browser
SH-Soft Browser (Version: 1.0.0.13) [0,4 MB]