ADMGM - Additional tools - Template Converter
The SH-Soft ADMGM Template converter is a tool which converts template and preset files to the actual versions.
It is possible to convert large ammounts of template and preset files with this tool.
---
Recources
The Template Converter is included in the Installer of ADMGM since Version 1.0.3.

You can also download the newest version of this converter from the ADMGM Tools page
---
Installation
If you have installed ADMGM 1.0.3 or newer the Template Converter should be already installed. Else please download the Template Converter installer and install it.
Within the installer you can select the installation directory.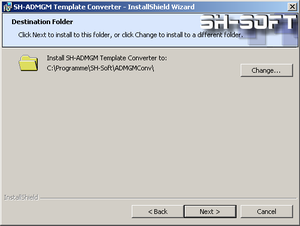 ---
Usage
Convert Preset files: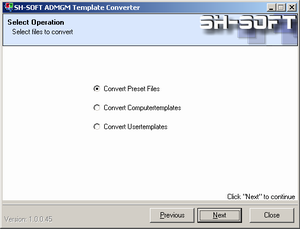 Select the directory with your preset files.
If you have devided the preset files in subdirectories check the "also browse subdirectories" checkbox
Then click on find to list all available preset files in your directory.

To remove on ore more files from the list doublecklick on the entry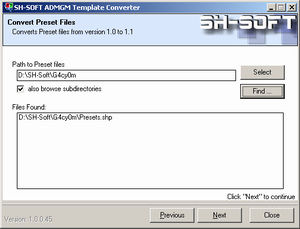 The settings on this tab are only required when you create you homedirectories with ADMGM

When you set the XCACLS parameter /E the function will work like in the ADMGM version 1.0.1 and 1.0.2 (the new directory gets the inherit permissions and an new permission entry for the new user).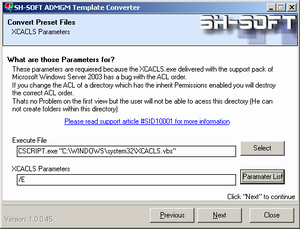 The Netbios Domain Name is also required for the XCALS script.
By clicking on the "Check" button the system variable %userdomain% which is you current logondomain will be added to the field.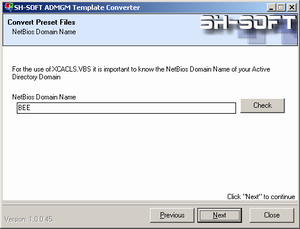 When this checkbox is checked the converter will backup all files before they get changed.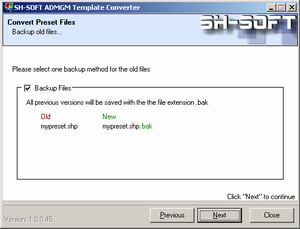 All required information are collected. The wizzard is ready to run.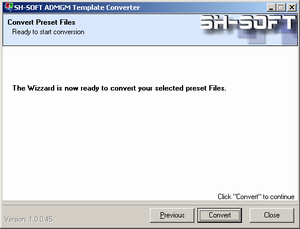 This Screen shows the conversion progress and if there were problems while the conversion.


---
Convert Computer Templates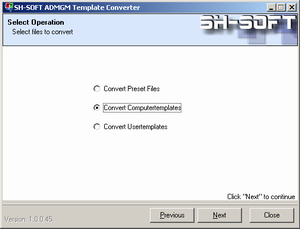 The only change in the Computertemplate is the Tamplate title and Template Creator field.
Those values are beeing displayed in the Application when a template is loaded.

The Template name will be set to the file name of the template file.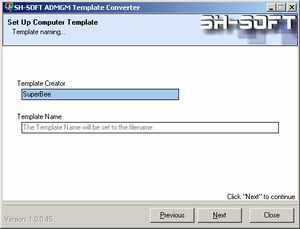 ---
Convert User Templates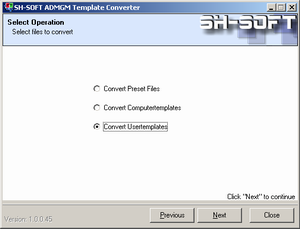 This function will add the %username% variable to all possible setting which have already a content.

So there won't be a %username% in your ProfilePath setting if the field was empty before.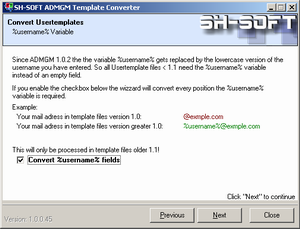 In ADMGM 1.0.3 it is possible to define the DisplayName of the users. The setting of ADMGM 1.0.2 was %lastname%, %firstname% so this is the default setting in the converter for this field.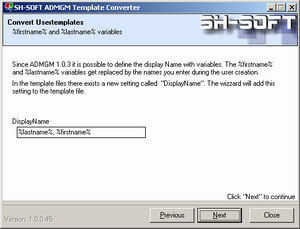 Here you can define the settings for the Home Directory creation. If you have template files in version 1.1 the only thing which will be changed are the permission parameters because they differ in version 1.2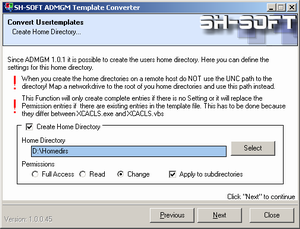 When the wizzard is finished you can close it or restart it to convert other files.